Upper eyelid blepharoplasty, commonly known as an eyelid lift, is a quick procedure to remove excess or sagging eyelid skin. Dr. Iyengar's particular approach to this  operation is in such high demand that he performs this procedure every single day. Recognized by his physician peers for nearly a decade as a San Diego Magazine Top Doctor in Eyelid Surgery, Dr. Iyengar is the most experienced surgeon in the San Diego area for this procedure.
Our practice sees many members of the aesthetic and medical community for this procedure because we do eyelid lifts more regularly than anyone in San Diego and are fully committed to patient safety. Many physicians also choose our practice for their own eyelid surgery because they know Dr. Iyengar regularly fixes the complications of other surgeons in the area. We are often asked to fix cases where a plastic surgeon (who is not an eyelid specialist) either took too much skin causing dry eye and inability to close the eye, or created a misplaced eyelid crease. The details in eyelid surgery matter, and seeing an eyelid specialist matters.
If you are considering having upper eyelid surgery in Encinitas or La Jolla, call 858-432-2700 today to schedule a blepharoplasty consultation at San Diego Eyelid Specialists in California.
Dr. Aaron Boonjindasup, a highly-respected San Diego urologic surgeon, with his mother after she underwent eyelid surgery by Dr. Iyengar.
What Are the Benefits of Upper Eyelid Surgery?
Upper eyelid surgery reduces the signs of aging and improves obscured vision. By removing excess skin and raising sagging or hooded eyelids, this procedure can make you look younger and more refreshed. Plus, it can create a smoother canvas for your favorite makeup products.
Upper blepharoplasty is not purely cosmetic — it also offers functional advantages. Drooping eyelid skin can obscure your visual field and decrease your vision-related quality of life. Eyelid surgery removes this skin to restore your field of view, and it may relieve associated headaches.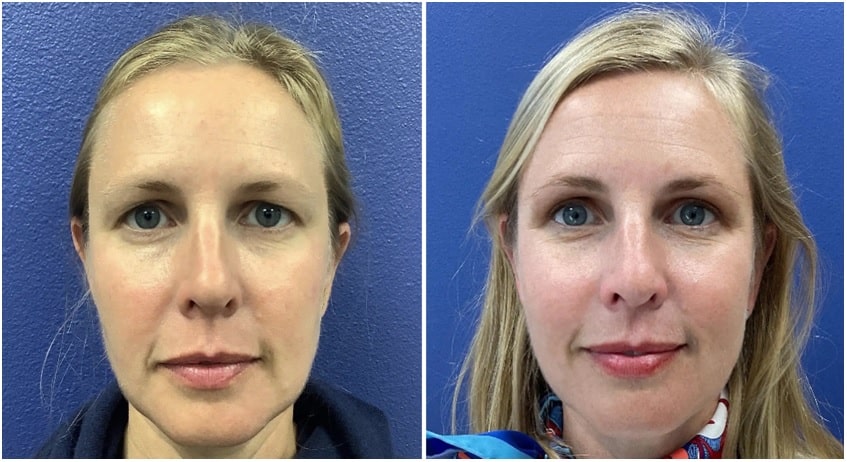 This is a kind Family Physician colleague at Scripps Clinic who is often in the public eye here in San Diego. She came to see Dr. Srinivas Iyengar for a natural-appearing result from upper eyelid blepharoplasty. She is pleased with the final result and back to caring for our San Diego community.
Am I a Good Candidate for Upper Blepharoplasty?
Ideal candidates for an upper eyelid lift have crepey, heavy, and/or drooping eyelids. Additionally, they are in good overall health and have realistic expectations for the procedure. The best way to learn if this surgery is a good match is to book a consultation at our practice.
Patients often ask us what the best age is for upper blepharoplasty. However, the right time to have an eyelid lift can vary from one person to another. You might consider it if drooping eyelids are making it difficult to see or causing you to feel self-conscious about your appearance.
How Long Does an Eyelid Lift Take?
An upper eyelid lift usually takes about 20 minutes. Dr. Iyengar performs this procedure in the office and in the operating room under light sedation. Pairing your upper blepharoplasty with other surgeries can be a great way to achieve your ideal results, but it will take longer to complete.
What Should I Expect from Upper Eyelid Surgery Recovery?
Many patients are surprised to learn that eyelid surgery recovery is relatively quick and painless.  Most of the downtime is social downtime. Social downtime is when you feel good enough to resume your normal activities but choose to keep a low profile while you heal. You can generally expect to be bruised for 1-2 weeks following your upper eyelid lift procedure.
These tips can help ensure a smooth and swift recovery:
Sleep with your head elevated to reduce swelling.
Apply ice or a cool compress for the first two days.
Keep your eyelids clean.
Use any prescribed drops or ointments.
Avoid wearing contact lenses for roughly two weeks.
Protect your incisions from sun exposure with sunglasses.
What We Do Differently in Upper Eyelid Blepharoplasty
Dr Iyengar has the highest level of formal training in eyelid surgery as a fellowship-trained oculoplastic surgeon
We preserve the orbicularis muscle under the eyelid skin which helps preserve a natural blink (safety)
We perform this procedure and associated measurements everyday
We determine if blepharoplasty is truly the right procedure for your eyelids
We fix the challenging complications from lower eyelid surgery or fat injections around the eye
Why Should I Choose San Diego Eyelid Specialists?
Our practice is unique in that we are the only practice in the San Diego area that performs this procedure EVERYDAY. Our practice also regularly fixes eyelid lift complications after patients have had surgery elsewhere—often from plastic surgeons who are not eyelid specialists.
As a fellowship-trained oculoplastic surgeon who has operated around the world, Dr. Iyengar has the most experience in blepharoplasty. He focuses on providing a natural, refreshed appearance while preserving the muscle under the skin responsible for eyelid closure. This avoids many possible complications with eyelid surgery. We are especially proud of the number of physician colleagues and healthcare workers in San Diego who choose our practice for their own eyelid lifts.
Case 1:
This is a nice physician (M.D.) colleague (Gastroenterologist) that came to see us with bothered by her upper eyelid skin.  She was seeking a safe, natural-appearing, aesthetic improvement.  She underwent upper eyelid blepharoplasty in the office by Dr. Iyengar. She was pleased with the result.
Upper eyelid blepharoplasty is best performed by a fellowship-trained oculoplastic surgeon who is a member of the American Society of Ophthalmic Plastic and Reconstructive Surgery.  Many physicians also choose our practice for their own eyelid surgery and their own family because they know Dr. Iyengar regularly fixes the complications of plastic surgeons in the San Diego community and has an unwavering commitment to safety while providing a natural-looking aesthetic improvement.
Cases 2-5:
Here are FOUR different patients who had upper eyelid blepharoplasty by local La Jolla Cosmetic surgeons and Carmel Valley plastic surgeons.  They were referred to Dr. Iyengar for secondary eyelid surgery after suboptimal outcomes. The top photographs are their results after surgery by a plastic surgeon and the bottom photographs are the after surgery by Dr. Iyengar. They were all pleased with their results and now advise their peers to see an eyelid specialist for an eyelid lift.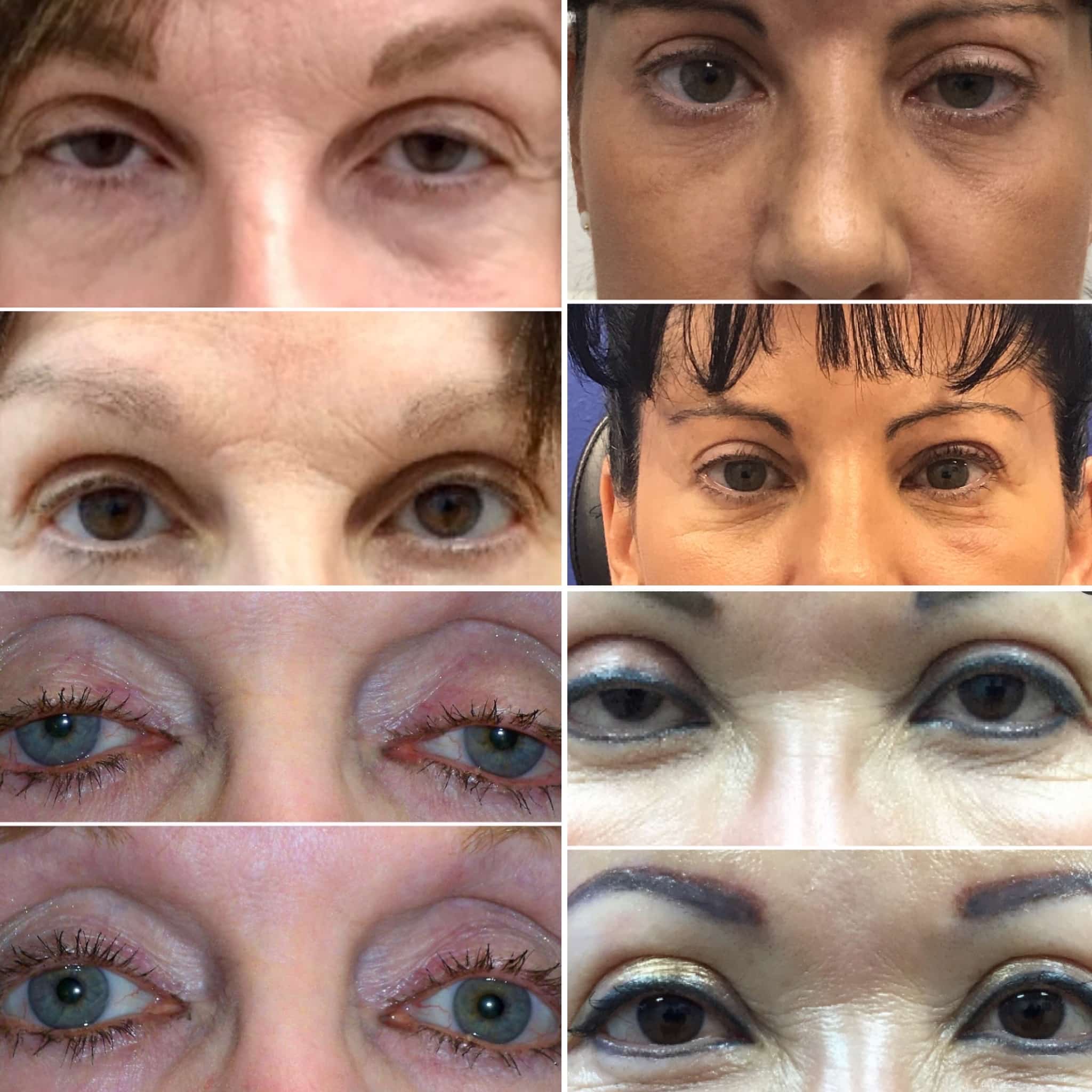 Case 6:
This nice patient was referred by her sister, a prominent dermatologist (M.D.) in the San Diego/La Jolla area. She wanted a refreshed look that kept her looking like herself but more rested. She underwent surgery by Dr. Iyengar in the office under local anesthesia and was pleased with the final result.
"Dr. Iyengar did my upper eyelid surgery one week ago. I was a little nervous to have the surgery since it was on my eyes, but after meeting with Dr. Iyengar and his staff, I was confident enough to schedule the surgery. I am beyond thrilled with the results already and they are still a little swollen and bruised. Such a difference. The procedure was done very quickly and efficiently. Dr. Iyengar has a magic touch. I'm so happy I went with San Diego Eyelid Specialists. The office staff is great too. I highly recommend."